The Hyperrealistic Art Of Child Prodigy Kareem Waris Olamilekan
At only 11 years old, Nigerian artist Kareem Waris Olamilekan is on his way to becoming one of the greats.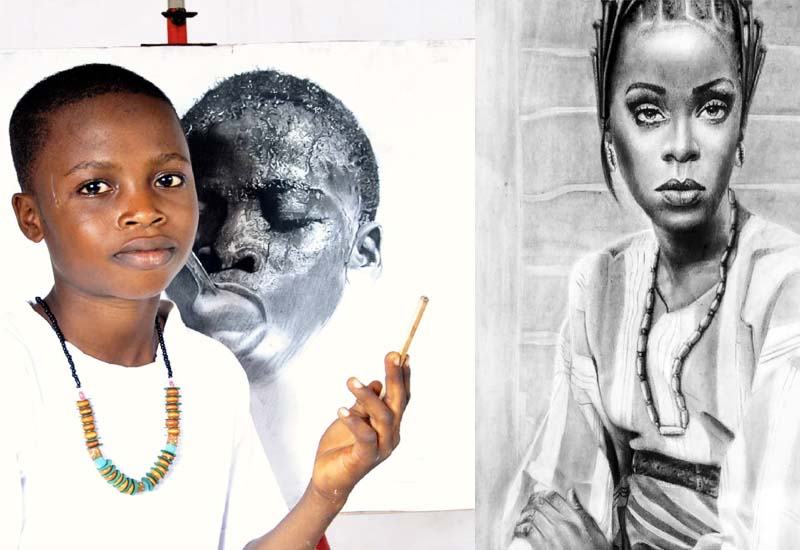 Kareem Waris Olamilekan, an 11-year-old artist based in Lagos, is receiving global recognition due to his phenomenal artwork. Describing his style as hyperrealistic, Olamilekan began drawing at the tender age of six. By eight years old, he became a professional, making him the youngest professional artist in Nigeria.
To succeed at hyperrealism, extreme patience is required. While drawing, Olamilekan precisely captures even the most minuscule details in order to bring his works to life. "I try to focus on it to get the detail in the picture and in the artwork too," he told DD News, adding that those who lack patience will not achieve hyperrealism.
Olamilekan's typical subject matter includes drawing from everyday life in Lagos, his personal experiences, and family. However, similar to all great artists, his work has a more profound meaning than what initially meets the eye. Take "Daily Bread," for example. "The inspiration behind it is that something going on around me, especially my family," Olamilekan explains. "The sweat on it symbolizes hard work and struggling. And the spoon symbolizes food. Everybody in my society has little now, or my streets, they struggle, struggle, they sweat for their eats."
The child prodigy began receiving worldwide attention after recently meeting with the French president, Emmaneul Macron, who was deeply moved by his work. At only 11 years old, this is only the beginning of Olamilekan's accomplishments. His art teacher, Adeniyi Adewole, believes that he is one of the most gifted of his students, saying, "He can go far, farther than even beyond our expectations because I believe with what he has been doing, he's going somewhere greater."READ MORE........
Trending
---